Model NO.: EW220193

Type: Plasma Cutting

Suitable for: Hpr130 Hpr260 Hpr400xd

Current: 30A

Trademark: easyweld

Transport Package: Paper Carton

Specification: Copper Alloy, Silver

Origin: China

HS Code: 8515900000

HIGH PERFORMANCE WELDING TORCHES AND PARTSÂ 
Our continual product development program produces better designs - longer lasting equipment - higher quality parts and consumables.

SURPASSING OEM QUALITYÂ 
Unparalleled expertise in gas flow mechanics and airflow dynamics at a micron level - knowledge and experience that makes  Torch Tip the world leader in welding and cutting technologies - plus over 15 years experience producing welding torches, guns, repair and replacement parts, tips, nozzles and consumables.

FASTER CLEANER CUTSÂ 
Our plasma cutting torch conversion kit brings High Density plasma cutting to standard equipment.

Easyweld, with more than 15 years' experience, a professional supplier in welding & cutting consumables & equipments.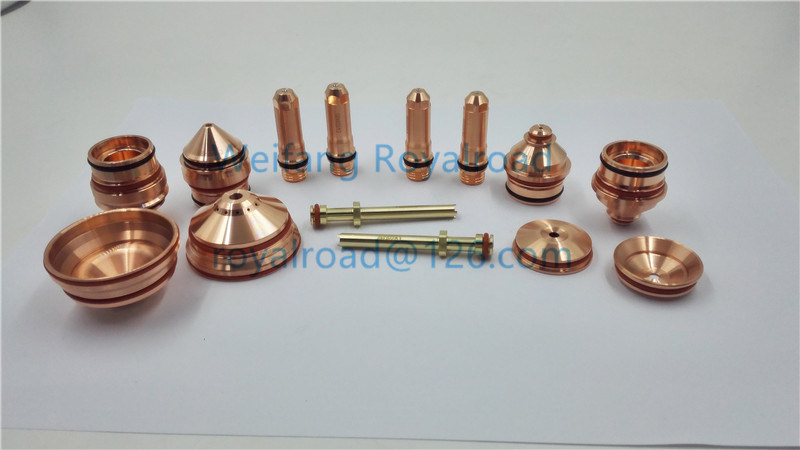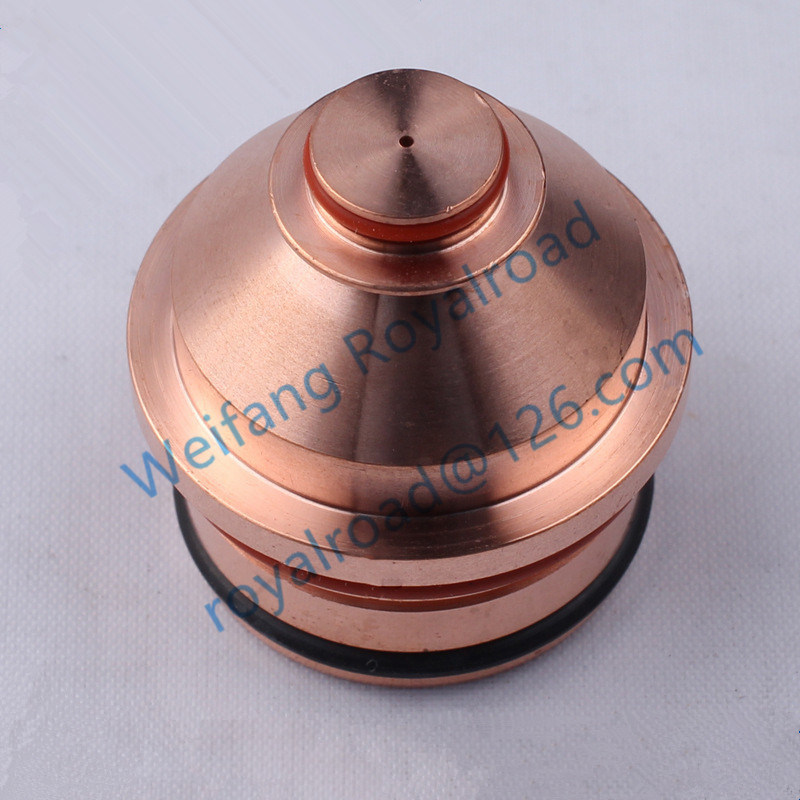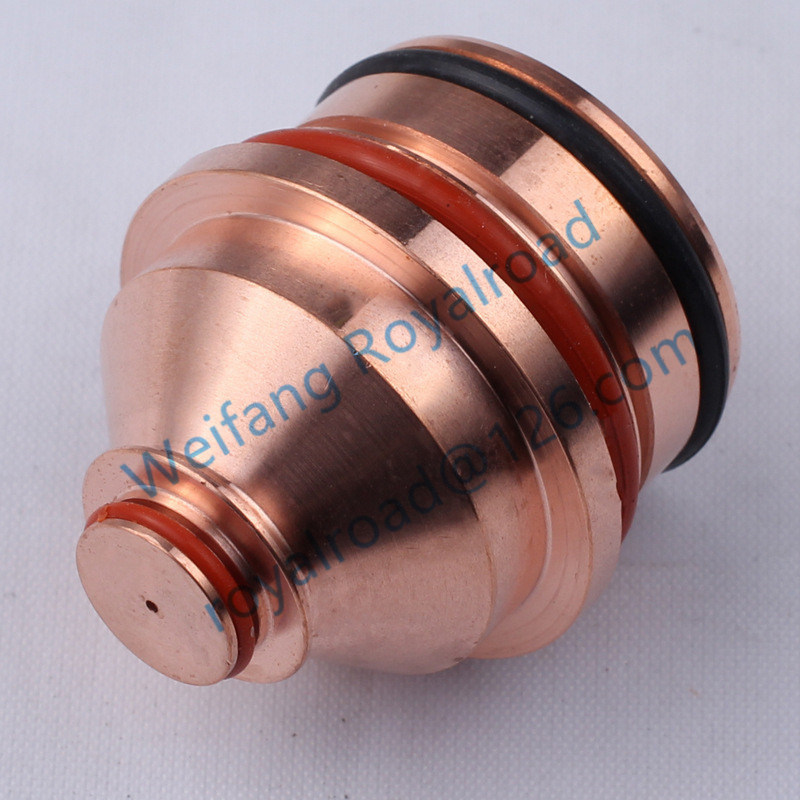 | | | | |
| --- | --- | --- | --- |
| No. | P/N | Description | Current |
| Â  | HPR130/260/130XD/260XD/400XD | Â  | Â  |
| 1 | 220192 | Electrode | 30A |
| 2 | 220552 | Electrode | 50A |
| 3 | 220187 | Electrode | 80A |
| 4 | 220181 | Electrode | 130A |
| 5 | 220352 | Electrode | 200A |
| 6 | 220435 | Electrode | 260A |
| 7 | 220629 | Electrode, XD | 400A |
| 8 | 220665 | Electrode, SilverPlus | 130A |
| 9 | 220666 | Electrode, SilverPlus | 200A |
| 10 | 220668 | Electrode, SilverPlus | 260A |
| 11 | 220193 | Nozzle | 30A |
| 12 | 220554 | Nozzle | 50A |
| 13 | 220188 | Nozzle | 80A |
| 14 | 220182 | Nozzle | 130A |
| 15 | 220354 | Nozzle | 200A |
| 16 | 220439 | Nozzle | 260A |
| 17 | 220632 | Nozzle, XD | 400A |
| 18 | 220194 | Shield | 30A |
| 19 | 220555 | Shield | 50A |
| 20 | 220189 | Shield | 80A |
| 21 | 220183 | Shield | 130A |
| 22 | 220356 | Shield | 200A |
| 23 | 220440 | Shield | 260A |
| 24 | 220761 | Shield, XD | 200A |
| 25 | 220764 | Shield, XD | 260A |
| 26 | 220636 | Shield, XD | 400A |
| 27 | 220180 | Swirl Ring | 30A |
| 28 | 220553 | Swirl Ring | 50A |
| 29 | 220179 | Swirl Ring | 80~130A |
| 30 | 220353 | Swirl Ring | 200A |
| 31 | 220436 | Swirl Ring | 260A |
| 32 | 220631 | Swirl Ring, XD | 400A |
| 33 | 220313 | Nozzle (Inner) Retaining Cap | 30-50A |
| 34 | 220176 | Nozzle (Inner) Retaining Cap | 80-130A |
| 35 | 220355 | Nozzle (Inner) Retaining Cap | 200A |
| 36 | 220433 | Nozzle (Inner) Retaining Cap | 260A |
| 37 | 220754 | Nozzle (Inner) Retaining Cap, XD | 30-50A |
| 38 | 220756 | Nozzle (Inner) Retaining Cap, XD | 80-130A |
| 39 | 220757 | Nozzle (Inner) Retaining Cap, XD | 200A |
| 40 | 220760 | Nozzle (Inner) Retaining Cap, XD | 260A |
| 41 | 220635 | Nozzle (Inner) Retaining Cap, XD | 400A |
| 42 | 220173 | Shield Cap | 30-130A |
| 43 | 220398 | Shield Cap | 200-260A |
| 44 | 220747 | Shield Cap, XD | 30-130A |
| 45 | 220637 | Shield Cap, XD | 200-400A |
| 46 | 220340 | Water Tube | 45~260A |
| 47 | 220571 | Water Tube | 400A |
| 48 | 220705 | RCPT:HPR400XD QDISC | quick disconnect |
| 49 | 220706 | HPR400XD QDISC TCH | quick disconnect torch |
| 50 | 220802 | Electrode | Â  |
| 51 | 220649 | Electrode EX | Â  |
| 52 | 220541 | Electrode EX | Â  |
| 53 | 220806 | Nozzle | Â  |
| 54 | 220646 | Nozzle | Â  |
| 55 | 220542 | Nozzle | Â  |
| 56 | 220742 | Shield | Â  |
| 57 | 220741 | Shield | Â  |
| 58 | 220179 | Swirl Ring | Â  |
| 59 | 220436 | Swirl Ring | Â  |
| 60 | 220631 | Swirl Ring | Â  |
| 61 | 220845 | Shield Cap | Â  |
| 62 | 220740 | Shield Cap | Â  |
| 63 | 220700 | Water Tube | Â  |
| 64 | 220571 | Water Tube | Â  |
| 65 | 220198 | SHIELD:HPR400 130A SS/AL | Â  |
| 66 | 220762 | SHIELD:HPR400 200A SS/AL | Â  |
| 67 | 220763 | SHIELD:HPR400 260A SS/AL | Â  |
| 68 | 220201 | NOZZLE: HPR/HPRXD 45A SS/AL | Â  |
| 69 | 220197 | NOZZLE: HPR/HPRXD 130A SS/AL | Â  |
| 70 | 220406 | NOZZLE: HPR/HPRXD 260A SS/AL | Â  |
EasyWeld is in no way affiliated with above brand names. The parts advertised for sale are not genuine parts, but are parts made for & by our company. Reference to above brands' machine, torches and numbers are for your convenience only. We reserve the right to substitute genuine parts in place of EasyWeld parts.

Q & A
1.Q: Do you have your own factory?
A: Yes, we have. Our factories located Shandong & Jiangsu province.
 
2.Q: What is the MOQ?
A: MOQ usually be 100pcs. Small quantity is also available.Generally if you choose the different products,our minimum order QTY.also will be differ

Horizontal Slurry Pump Co., Ltd. , http://www.nsslurrypump.com