"Last year, Foton Cummins to achieve sales of 172,000 units, and 130,000 in 2014 compared to an increase of 30%, which is one of the few engines of growth companies. This year's sales volume is expected to reach 20 million units!" Fukuda Ollin & On the scene of Tuyenuo Quality Miles Tianjin Station, Fuhong Cummins Account Manager Du Hongzhan told China Truck Network reporter.

Why is Foton Cummins so convinced?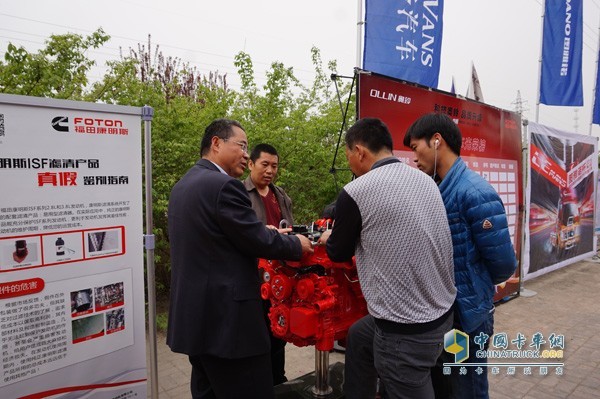 Fu Tian Cummins Key Account Manager Du Hongzhan introduced the user to Foton Cummins Engine

I remember when talking to users three years ago when talking to users about Foton Cummins, everyone was more about Cummins, not Foton Cummins. However, a short period of three years passed. Now Foton Cummins has become the perfect standard for light trucks. It seems that as long as there is Foton Cummins, the truck will have a quality label.

In particular, with the increasing number of models assembled by Foton Cummins, its presence has also become the focus of everyone's chasing: Ao Ling, Ou Ma Ke, Auman, Era Kangrui, Ruiwo Zhongka··· After the close relationship between "Fukuda" and "Cummins" became stronger, we found its shadow on other brand models, such as JAC light trucks, Howo light trucks, Kairui green cards, and Dongfeng Liuqi.

Why do you trust Foton Cummins? Many light-card users evaluate it as such: small size, light weight, low fuel consumption, and long maintenance time.

Small size and light weight mean that you can pull more goods. Low fuel consumption and long maintenance time can reduce transportation costs. Who doesn't love such a good engine?

Of course, this is not the most important thing. "Futian Cummins's products can meet the emission requirements of different countries and regions." Mr. Du said the truth. It is understood that Foton Cummins had advanced emission levels from the first product when it was put into operation, especially in China, which is still in the country's second market and Guosan's just beginning stage. Futian Cummins will import the ISF series products that have achieved the fourth national emission. Domestic market.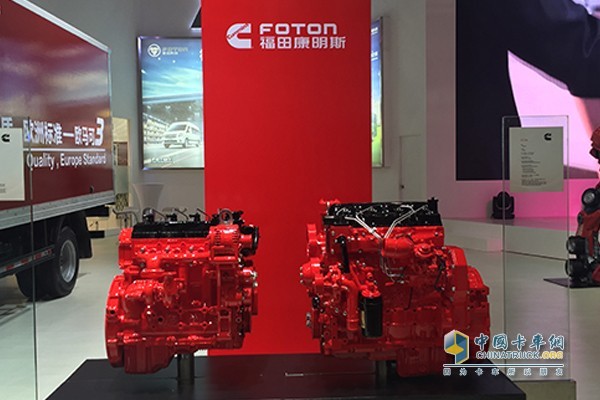 Cummins ISF Series Engine

At the same time, Foton Cummins also has the technology of Beijing Five and Special Beijing Five, that is, Euro VI. It is the only engine company in Beijing that can satisfy the special Beijing Five. With the implementation of State V emission standards in 11 provinces, Foton Aoling, Omar, and Auman Heavy Trucks have started to launch the National V product. The engines that are equipped with the aircraft are all Futian Cummins.

Is this a coincidence? Of course not!

Taking the Austrian Bell CTX Cummins Powertrain V new product as an example, the Cummins ISF3.8/2.8-litre two-displacement engine equipped with this product represents a global leading level. The engine's starting emission standard is National IV and can be easily upgraded. To the country V level. Subsequent processing technology is the more advanced Selective Catalytic Reduction (SCR) technology at the present stage. It can be applied synchronously with high-pressure common rail systems, E-CU electronic modules, intelligent on-board diagnostics (OBD) systems, and other technologies. The fuel consumption is reduced by 8%, the power output is increased by more than 30%, and the maximum torque is also 1.5 times that of similar products.

In addition to the domestic Cummins ISF2.8 and 3.8 liters, according to Du Manager, the ISF 4.5-liter engine that is mainly supplied to Europe and meets Euro VI regulations is also expected to be launched into the domestic market. It is reported that the ISF 4.5-liter engine is mainly configured on a medium-truck model with a maximum torque of 750 and a power of 210 hp, which will become a new growth point in the future.

With technology and products, can services be synchronized in place? In the eyes of Du, this is not a problem at all.

According to reports, Futian Cummins has already made spare parts reserves for the country's V-discharged regions, and has put in place in the demand market. Service engineers all over the country have also actively provided corresponding skills to service stations and distributors. Training, while serving caravans has also strengthened tour training around the country. "If there are still problems that cannot be resolved, then we must start our flight team and ensure that the problem can be solved within 24 hours," said Du.

From entering the Chinese market to the fourth national emission, the spring of Foton Cummins has arrived. Now that the country's V emissions have increased, Foton Cummins is already in full bloom.

China Industrial Pellet Mill,Peanut Shell Pellet Production Line,Peanut Pellet Press Equipment,Peanut Shell Pellet Line, we offered that you can trust. Welcome to do business with us.Products exported to Europe, South America and more than 180 countries. And in Malaysia, Poland, India, Hungary, Australia, Egypt and other countries set up a general agent, domestic and foreign users praise and favor.

Peanut Shell Pellet Line

Industrial Pellet Mill,Peanut Shell Pellet Production Line,Peanut Pellet Press Equipment,Peanut Shell Pellet Line

Shandong Yulong Machine Co.,Ltd , https://www.yulong.cc