In 2014, ZF sales are expected to increase 8% from the same period in 2013, from 16.8 billion euros to more than 18 billion euros.

"Although the entire automotive industry was not optimistic about the development in 2014," ZF CEO Stefan Sommer said at the press conference held in Stuttgart at the end of the year. "We are gratified that we are With the joint efforts of all employees, the annual sales growth has achieved an above-average commitment." ZF's 2014 sales will be expected to achieve "high single-digit percentage" growth.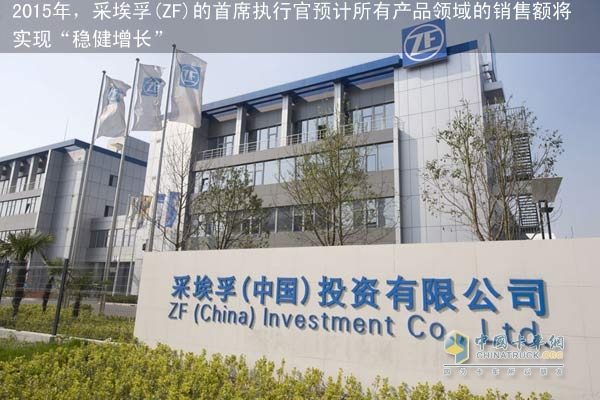 Diversification in different regions has become a special challenge. Dr. Stefan Sommer emphasized: "The economic situation in Brazil and the Russia-Uzbek conflict have actually affected the sales performance in South America and Eastern Europe." For example, In South America, sales fell by about one-fifth to 550 million euros. However, the situation in North America and the Asia-Pacific region is very different. Sales increased by about one-fifth and increased to 3.7 billion euros and 3.6 billion euros respectively. In Europe, annual sales increased by 5%, exceeding 10.3 billion euros. In addition, contrary to the past few years, the impact of currency has been greatly reduced this year. This effect will be elaborated at the ZF Financial Press Conference to be held in April 2015.

In 2015, the CEO of ZF expects sales in all product areas to achieve "steady growth." In addition, Dr. Stefan Somer believes that the engineering and agricultural machinery market will become another important and stable development market for ZF.

A major theme for 2015 will be the completion of mergers and acquisitions with the United States TRW Group, and subsequent company integration tasks. On November 19, 2014, after Tianhe shareholders voted to adopt the merger and acquisition plan, a series of anti-monopoly reviews are currently underway. The M&A transaction between ZF Group and Tianhe Group is expected to be completed in the first half of 2015. "The experts from both companies will form an integration team," said Dr. Stefan Sommer, who will complete the integration task under the leadership of an experienced automotive industry M&A manager. "The important thing is to combine strengths and integrate the advantages of the two groups," stressed Dr. Stefan Sommer, "to take advantage of this strategically unique opportunity." Thus, ZF's efficient hybrid transmission Technology and future technologies (such as TRW's advanced driver assistance system) will lead to more complex and extensive spectrum of products and technologies.

The year 2015 marks the 100th anniversary of ZF and the company "Zahnradfabrik GmbH" was founded on September 9, 1915. Its core business is "production of gears and gearboxes for aircrafts, automobiles and motor boats". Despite its extraordinary history, ZF has always seized the opportunity and has now developed into a world-renowned leader in automotive transmission and chassis technology.

Snoworld aluminum plate Direct Cooling Type Block Ice Machine production capacity ranges from 1 ton/day to 20 ton/day. Different dimensions of ice can is provided, while customized is acceptable. The models and data are as followed.
Unit

Performance Parameters

Nominal Production

Necessary refrigeration

Installed power

L

W

H

Net weight

Model

Condensing type

t/24h

kcal/h

kW

mm

mm

mm

kg

BD10A

Air-cooling

1

5590

4.8

3200

1650

1350

4000

BD25A

2.5

13975

13

4300

2050

1450

9000
Snoworld aluminum plate direct cooling type Block Ice Machine has several features.




· Quick and automatic ice dropping off, saving human labor.

· Special-designed evaporator, with high efficient thermal conductivity.

· PLC controls and self-protects during water filling, ice making and harvesting.

· All-in-one refrigeration systems.




Direct Cooling Type Block Ice Machine

Ice Block Machine,500Kg Ice Block Machine,1 Ton Block Ice Machine,Direct Block Ice Machine

Fujian Snowman Trade Co., Ltd. , http://www.sinoicemachine.com